One of the things Italy is famous for is shore fishing because of the fact that you can target a very good amount of predators. Some of them change depending on season and place but there is always a good fighter to chase if you want to experience some land based fishing on this part of the Mediterranean sea.
The coastal structure and fishing environment
The structure of the coast variates a lot in Italy, depending on the regions. Sometimes within the same region, you can experience all the fishing grounds just moving a couple of kilometers or nautical miles. The region of Sicily, in particular, is an island located at the extreme southern part of the Italian Peninsula. Sicily is regarded as one of the best shore fishing locations in Italy due to its accessibility to the sea.
This geographical area, for example, is famous to be land of volcanoes, as well as the place with the most beautiful beaches in the country. In term of fishing, this means that a shore fishing angler or a fly fisherman can fish from both black high cliff or shallow waters on the sand with some river deltas. Aside from sandy shores, Italy's coast is also made up of rocky limestone. Coasts could be high and sharp with deep waters that are only accessible by taking long walks while shallower areas covered by seaweed are easier to reach just by walking and wearing water shoes.
The diverse environments host many predator species. The most common pelagic species are Barracuda, Amberjack, Bluerunner, Bluefish which thrives almost everywhere while Seabass, Dentex, Red Porgy, Grouper, Saddled sea bream often loiter on specific spots. Depending on the season and the specific location, it's possible to find many tuna species like Atlantic Bonito, False albacore, Little tunny, Frigate tuna and even Bluefin tuna from the coast. But this will be explained in a separate post. Many of those species could give some good saltwater fly fishing in Italy for experienced anglers.
The video
Our daylight shore fishing video shows some slow-motion action during fishing in Sicily. Here, we cast hard baits into crystal clear waters in daylight conditions, out of the classic moment of the changes of light. The fishes we meet in this particular fishing session are Mediterranean Barracuda, with a beautiful double strike, which is always a great satisfaction for every angling team. The video shows also Bluefish fishing (Pomatomus saltatrix) known for its hard opposition and spectacular attacks on the surface. Both species reacted with nice jumps and tailing out of the water, giving us intense fighting moments even under our feet!
The footage caught amazing strike instants, including the seconds right before, useful to take a look at the speed and movements to animate a jerking bait in similar conditions. Usually a good and calibrate stop, after a fast retrieve, is the key action to let the fish biting our lure. Due to the tough mouth and the extreme opposition, bluefish, in particular, require multiple hook setting in order to not let them go after the first jump. To catch Bluefish and barracuda with daylights we used natural color lures.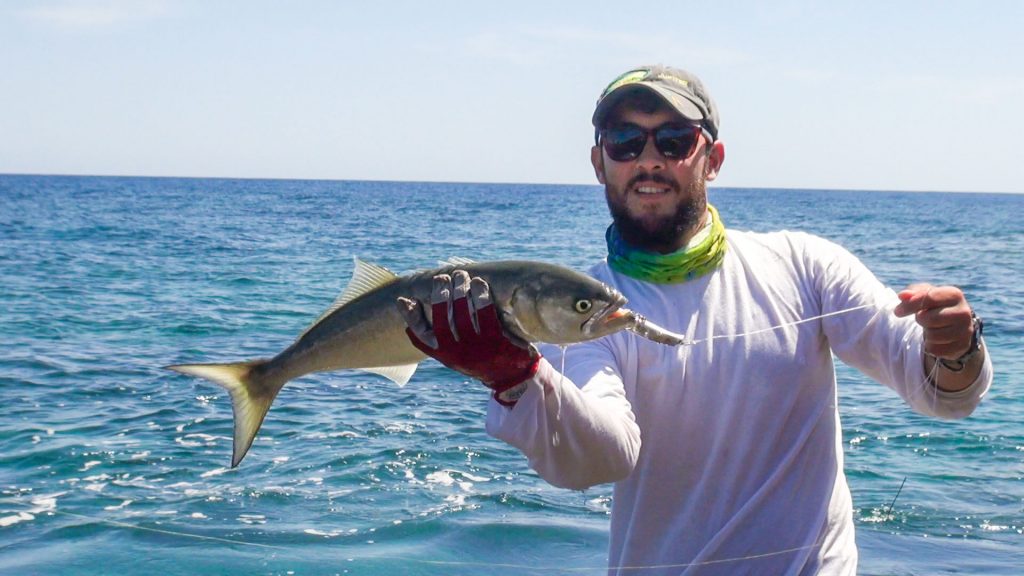 The equipment
The used equipment provided by Shimano Italy consists of a lightweight G Loomis Nrx specifically made for saltwater spinning and a bit heavier Shimano Ocea BB, usually used when bigger fish are expected to bite. Both rods combined with Shimano Twin Power SW reels.
The fishing trips options
This is a good example of what to expect during a single session of a shore fishing trip in Italy. If you are thinking about joining us for a trip, consider a multiple-day trip. This is highly suggested because of the different conditions that is possible to meet fishing more than just one day and because of the other available activities between a fishing session and the other one. An adventurous atmosphere, that merge fishing and the Italian lifestyle of the southern islands, located in the middle of the Mediterranean Sea.
It may be a bit complicated if you have an already scheduled travel program, but consider that a 3-day trip on the fishing spots we suggest is never just fishing but also a complete local adventure. It is also possible to easily share the multiple days trip with the rest of your group or family. They would have so many unexpected places to see, food to try and experience to share completely off beaten tracks (and guide books) in perfect Italian mariner style.
We would suggest you the best option considering the season and the needs of your group. It is also possible to include some boat session on request. Is also important to note that on our fishing trips, shore fishing is always possible, no matter the weather/sea conditions. Many times, when the weather does not allow to go on a boat fishing trip, shore fishing is a great alternative especially because waves, foam, currents, and clouds make good shore fishing.
Extreme Mediterranean expeditions
If instead, you want to fish at the highest level of the Mediterranean Sea possibilities, ask us to organize and extreme expedition and obviously, we would be happy to fish with you on the best Mediterranean fishing, putting our knowledge and experience at disposal, to leave you breathless on a customized and unique experience, maybe fishing where nobody did it before.